Hello Everyone!

I fixed this skillet dinner last night for supper and thought as I was eating it...

This would be a great recipe for the blog!!

This recipe was given to me during one of our MOMS Group cooking classes

that we had at our last church.

The recipe was given to us by Tina Dryer.

This dish has such a great flavor and the apples in it are......yummmmm!!

(Shoulda taken a picture of it in the skillet, but oh well...next time! :D)


Sausage Skillet Dinner
Serves 4


12 oz. Smoked Sausage Link
2 Tablespoons Water
1 Medium Onion
2 Small Red Apples
2 Tablespoons Butter, divided
12 oz. Bag of Frozen Potato Wedges
1/4 Cup Cider Vinegar
3 Tablespoon Sugar
1/2 Teaspoon Caraway Seeds
2 Tablespoon Chopped Fresh Parsley

Place sausage and water in a large skillet; cover tightly and cook over medium heat 8 minutes, stirring occasionally. Meanwhile, cut onion into 12 wedges; core and cut apple into 8 wedges. Remove sausage to warm platter. Pour off drippings. Cook and stir onion and apples in 1 Tablespoon of butter in same skillet, 4 minutes or until apples are crisp-tender. Remove to sausage platter.

Heat remaining 1 Tablespoon butter; add potatoes and cook, covered over medium-high heat 5 minutes or until potatoes are tender and golden brown. Stir occasionally. Combine vinegar, sugar and caraway seeds. Reduce heat; return sausage, apple mixture and vinegar mixture to skillet. Cook minute or until heated through, stir gently. Sprinkle with parsley.

Options:

I used fresh (raw) potatoes instead of the frozen. I used about 4 medium potatoes, cut into each into 8 wedges
I put the potatoes in with the apples and the onions
I used turkey sausage links



Enjoy!

*****************************************************************************************

Now we come to our last posting for Philippians.....

yes, it is true. We started out on this journey July 1, 2008!!!

Over one year ~ Z.O.W.E.E.!!!!

A lot has happened during that time.

Our last post for Philippians will highlight verse 4:13 and verse 4:19:

Verse 13:

"I can do all things through Christ which strengtheneth me." ~ King James Version

"I can do everything though Him who gives me strength." ~ New International Version

"Whatever I have, wherever I am, I can make it through anything in the One Who

makes me Who I am." ~ The Message Bible

Kinda reminds me of this: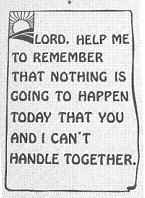 The following are excerpts from:


Rich Cather

Philippians Sermon Notes
Calvary Chapel, Fullerton, CA
(Frequent Use of Illustrations)


...found ~ where else but ~ www.preceptaustin.org ~ My all time favorite

online Commentary!! Whoo Hooo!!

Click here for the entire sermon for Philippians 4:10-23, dated 12.18.02.

Pastor Cather says:
"I can be strong through Christ who endues me with strength.
Jesus' power in me...
The power to be 'content' in all circumstances comes from Jesus.
I think we sometimes hear this verse being used as some sort of promise of supernatural strength to pick up cars and wrestle evil-doers.
But there is a context here. God doesn't give us a blank check for strength to do anything.
I'm not sure that God gives us strength to rip apart phone books.

I know that God doesn't give us strength to commit sin.
I think we need to keep in mind that the 'all things' refers to learning to 'abase' (be humble) and 'abound' and still be 'content'.
God gives us strength to do His will.
(John 15:5 KJV) "I am the vine, ye are the branches: He that abideth in me, and I in him, the same bringeth forth much fruit: for without me ye can do nothing."
Jesus can give us the strength to live with less."
Amen, Pastor Cather!!

What I hear him saying is that you have to read the whole chapter

to know what Verse 13 means. He gives us strength to live our lives

when the dream we had of what our life would be....

is not.

He gives us strength to journey through the pot holes of life,

through the twists and turns,

through the almost driving into the left lane,

through almost going off of the road, into the ditch,

through running a red light.....

Thank you, Jesus.


Verse 19:


"
But my God shall supply all your need according to His riches in glory Christ Jesus
.
"
~ King James Version


"
And my God will meet all your needs according to His glorious riches in Christ Jesus."
~ New International Version

"You can be sure that God will take care of everything you need, His generosity exceeding even yours in the glory that pours from Jesus."
~ The Message Bible

Again from Pastor Cather:


"God takes care of givers.
Keep in mind the context.
This is a church that is giving sacrificially.
I'm not sure that we should be using this verse as an unconditional blank check that God will always provide all that we need.
This is a common verse that people will 'claim'. Any person who has financial problems is encouraged by hearing this verse, as if God is going to always rescue you in the nick of time.
I think that in reality there may be times when God allows us to go through 'tough times' to get our attention.
The promise of this verse is towards those who are learning to give as God would lead them.
Do you pay attention to God's promptings to give? Are you a person who has a regular habit of giving?
Are you supporting the ministries that God is using in your life and in the lives of others?
The Philippians supported Paul and they supported the poor in

Jerusalem.
Illustration
Dr. Helen
Roseveare
, missionary to Zaire (formerly the Belgian Congo), told the following story: A mother at our mission station died after giving birth to a premature baby. We tried to improvise an incubator to keep the infant alive, but the only hot water bottle we had was beyond repair. So during devotions that morning we asked the children to pray for the baby and for her little sister who was now an orphan. One of the girls responded, 'Dear God, please send a hot water bottle today. Tomorrow will be too late because by then the baby will be dead. And dear Lord, send a doll for the sister so she won't feel so lonely.' That afternoon a large parcel arrived from England. Eagerly the children watched as we opened it. Much to their surprise, under some clothing was a hot water bottle! Immediately the girl who had prayed so earnestly started to delve deeper, exclaiming, 'If God sent that, I'm sure He also send at doll'. And she was right! The Heavenly Father knew in advance of the child's sincere requests, and 5 months before, He had led a ladies group to include both of those specific articles."
Thank you, Pastor Cather, for your sermon and great illustration!!
God WILL supply our needs, not our wants.
Thank you, Lord for being our Provision.
I want to end this study with a little review from Kay Arthur:
Philippians 1 – you can have joy despite imprisonment because Christ is your life
Philippians 2 – you can have joy despite people because Christ is your mind
Philippians 3 – you can have joy despite things because Christ is your goal
Philippians 4 – you can have joy despite circumstances because Christ is your
sufficiency, your strength
Chapter 1's review caught me a little off guard. But I think she is saying

that Paul was in prison when he wrote Philippians. We can be in our
own type of prison, also.
I pray that the book of Philippians is more real to you, now.
I pray that the words that God wanted you to read

and remember will be sealed in your heart until we see Him

on that glorious day ~ Amen!!
Striving to have real joy in my life,
Debbie G.
PS..."stayed tuned" for www.cgcbiblestudy.blogspot.com's next series!! (hint...think of the word "protect")